You must be signed in to the site in order to access the DLAM Online Training Modules page.
Sign in here
. The DLAM Online Training Modules page is also where you will go to print certificates of completion for online courses and enroll in wet labs and/or walkthroughs.
Rest assured we have access to all of your completed course records from the previous site. We will make every effort to ensure that you are allowed to enroll in the appropriate Labs and Walkthroughs as needed. In most cases, we will work with each student directly to ensure a smooth transition from our legacy system to our new Portal. We thank you in advance for your patience as we work out the anticipated wrinkles.
(For Example: Visiting Investigators, Volunteer Employees or Temporary Laboratory Personnel)
ALL Steps Must Be Completed in Order
1. Download and complete the form located at the following link: Photo ID Application
The proper procedure is for the sponsoring department to request a guest BruinCard online by completing the Affiliate/Guest Request Form available at www.bruincard.ucla.edu (click on "Forms" on the left menu, then "Affiliate/Guest Request Form").

Here is a screen shot of the form: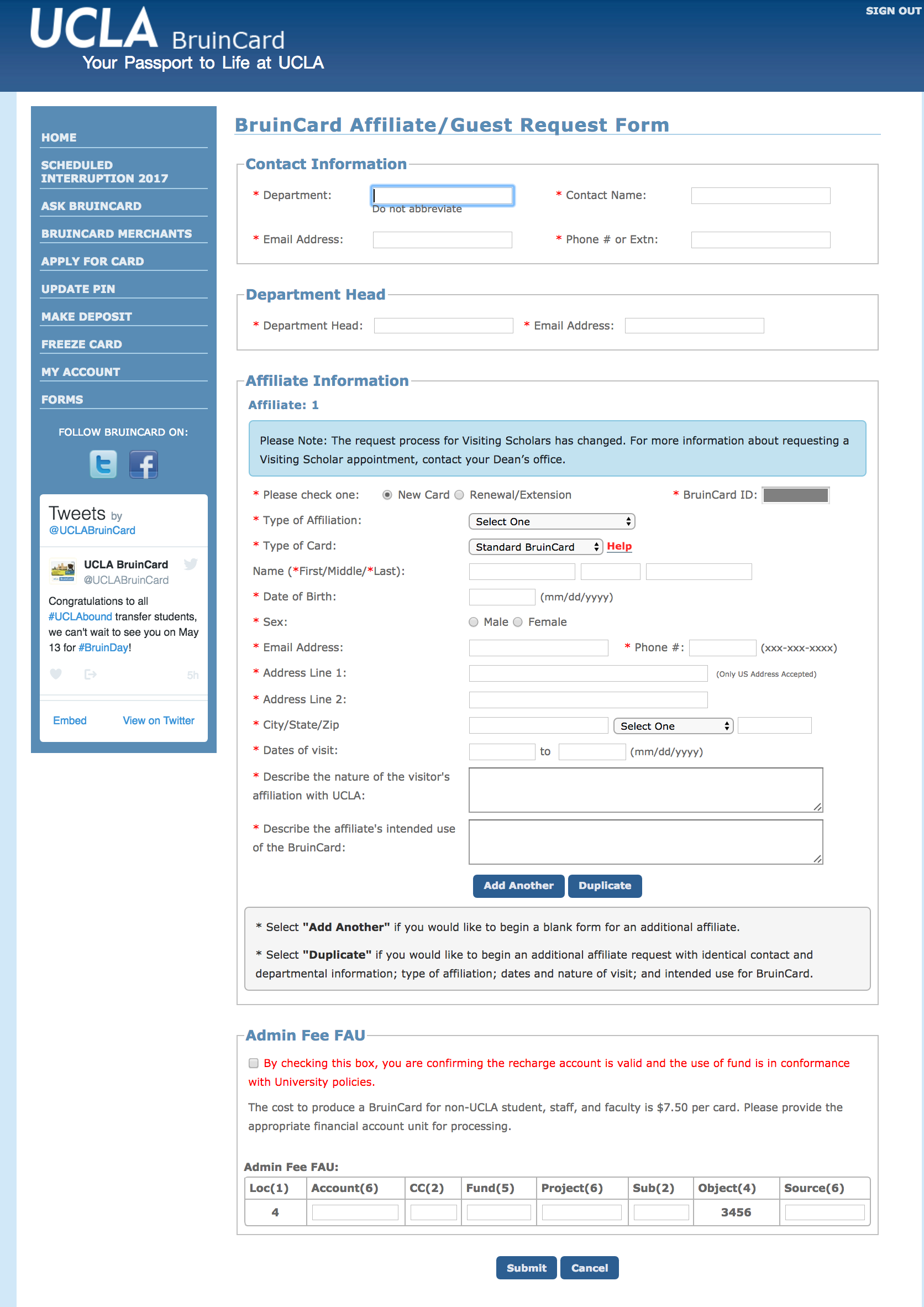 Please complete all fields including the following:
Contact Information (the requestor should fill in their information)
Department Head (Department Chair, CAO, Director's information)
Affiliate Information (Please complete fully with information of guest/affiliate)
Select "New Card"
Type of Affiliation - make selection based on type of guest
Type of Card - choose "Healthcare Badge" for all UCLA Health System, DGSOM, Semel, SOPH, SOD, and SON.

Complete name, date of birth, sex, email address, home address, dates of visit (eligible for badge if on-site for 4 weeks or longer).
Complete brief nature of affiliation and intended use (could include visiting student, vendor, contractor, voluteer, etc. With intended use to include need for photo identification to patients/visitors, building access, etc).
Click on the "Add Another" to add multiple guests/affiliates for a single requestor/sponsoring department at one time
Admin Fee FAU (will begin for Health Sciences on July 1, 2013).
The cost to produce a BruinCard for non-UCLA student, staff, and faculty is $7.50 per card. Please provide the appropriate financial account unit for processing.
Check the box confirming the FAU is valid.
The process will generate an auto-confirmation upon receipt of the form and notify the department the UID assigned and when the guest can submit a photo on-line or come take a photo and pick up the card/badge (at this point, the guest record is in the BruinCard system already).

Sponsoring Department Procedure for Guest/Affiliate Photo ID Process
MHQ stands for
M
edical
H
ealth
Q
uestionnaire. All UCLA staff and/or students who handle animals or animal tissue, or who have access to the vivarium, must complete this form each year. All questions are required. Your MHQ can be completed online using the following link:
http://mhq.healthsciences.ucla.edu
Walkthroughs must be completed for all barriers where your animals will be housed. For more info, please contact:
DLAMTraining@mednet.ucla.edu
Enrollees are strongly encouraged to arrive on time!
Failure of an enrollee to attend the class for which he/she is registered will result in a $50.00 no-show fee charged to the enrollee's PI if cancellation notice has not been received: at least 24 hours prior to the start of the class.
Enrollees MUST provide printed proof of completion for the following:
DLAM's online prerequisite course: "Working in a Biocontainment Facility"
EH&S courses:
Biosafety A, B, Cs - Biosafety Level 2 (BSL2)
Biosafety Level 2 with Biosafety Level 3 practices (BSL2+)
Biological Safety Cabinet (BSC)
Bloodborne Pathogens (BBP)
Medical Waste Management (MWM)
Failure to provide proof of EH&S training will result in subsequent re-enrollment block and/or a $50 recharge to your PI's account.